I spent the past three years starting Unicorn, Inc. quietly, doggedly focused on building a robust, strategically important patent position for my startup – now with about three dozen patents in the works.
And they're worthless? Really?
Cuban is undoubtedly referring to gizmo patents on all of those "next generation" lemonade stand startups pitched on Shark Tank, but in an interview with Gene Quinn at IPWatchdog.com, it does remain clear that Cuban is one of many anti-patent investors (except when he invested in Vringo's patents to sue Google for infringement).
Despite the anti-patent position that Mark Cuban and many other VCs take regarding investing in startups with versus startups without patents, the fact is that startups that strategically develop a patent position earn a HUGE value premium at every phase of the business – from startup, funding, and through to an exit.
Early patent ownership DOES predict the success of a tech hardware startup (software startups being different animals) as the following data indicates.
And some VCs recognize patent value in their startups. Those with the most patent-focused companies in their portfolios a few years back are DAG Ventures (59%), Menlo Ventures (57%), and Kleiner Perkins (56%).
FOLLOW THE DATA:
A report and study commissioned by France Brevets sought answers to two key questions that should be important to every investor and high tech founder:
Are patents a good signal for VC investors?
Is there a link between patent positions and the probability of success?
The researchers found that "strong evidence supporting positive answers to both questions. We first show that on average a startup has about 2.5 more chances of meeting success within 10 years after the VC investment if it holds patents before that investment." and that "patent ownership induces a significantly higher probability of success in the 5 to 15 years that follow the VC investment." (See Figure 4. from that report.)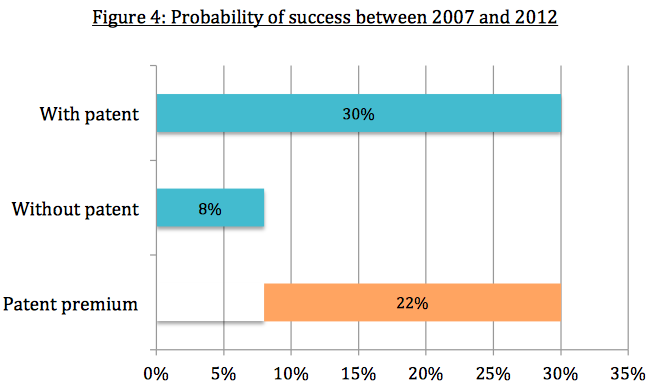 I'm more of a data-driven startup guy than an emotion-driven one; I follow the data, and as Techcrunch says, I "[f]ile early, and keep quiet" … until now.
The data in the France Brevets study concurred with an earlier study, the "High Technology Entrepreneurs and the Patent System of the 2008 Berkeley Patent Survey", published in the Berkeley Technology Journal of Law. Admittedly, this study is a few years older than France Brevets, but the data similarly revealed:
"Patents were found to be highly relevant to obtaining venture-backed funding at biotechnology and

IT hardware-based startup companies

. (Awesome! Unicorn is a hardware startup!)
Patents were also found to be more relevant to obtaining Angel and "friends and family" funding than previously thought.
A large share of early-stage companies, especially in the software industry, avoid the patent system altogether". (likely even fewer now post Alice)


OH – and, I really LOVE this one:
Startups tend to spend considerably more on obtaining each patent than what was previously reported. Specifically, the 2009-reported patent spending for start ups was $38,000 for each patent, which exceeded the $10,000 to $30,000 range for other patent recipients.
$38,000! At that figure, Unicorn, Inc already has $1.5 million worth of patents "in the bank"!
Well, those advocating against patents often use the argument that VCs want investment cash going towards development and marketing, not to patent attorneys. If funds are short, it makes sense to limit patent legal expenses so long as the VCs fully understand the possibly severe implications of not having patent protection on commercially valuable inventions, given the stringent requirements under the America Invents Act.
A year passes quickly when the only thing that founders are focused on is getting product out the door. When startups finally do "get around" to patents, a year has passed since their first Instagram photo of their product "coming soon", and they are skunked! Value … gone.
OK, so I have an unfair advantage here. As a patent expert and IP Strategist, I understand how, when and why to file patent applications to advantage Unicorn, and do so. In drafting my own patents (lots of them), I increase the corporate value significantly more than my cost (because entrepreneurs work for free), so the VCs argument against establishing a strong patent position can't apply to my company.
FACT: Huge markets create fierce competition. Most business plans claim huge opportunity, but business plans almost always underestimate (or are oblivious to) future competitors sitting on huge patent portfolios, waiting for nascent start ups to develop the market.
I don't believe that many VCs buy into the notion that IP development should be one of the core objectives of any startup – right up there with MVP and other operating metrics. And not just for the engineering group, but across every organizational silo (engineering, marketing, biz. dev., finance, HR).
For my startups, the strategy to create a disruptive position in huge markets begins with IP development at the business plan stage – long before a company's first product hits the market, and most certainly before venture investment.
And, if the EXIT is the VC's end game, then bet on the startups with the largest, most robust patent portfolios to yield the highest multiples.
INVESTOR DUE DILIGENCE TO UNCOVER INDUSTRY DISRUPTORS:
Setting aside the founders' credentials, investment decisions typically boil down to a few fundamental metrics, among others: credible revenue forecasts, sustainable competitive advantage, and a clear exit strategy at maximum value.
An investor's patent-based due diligence can discover start ups that are best-positioned to dominate a targeted market segment, and realistically identify potential acquirers for an exit – years in advance.
Just like I've done at Unicorn, Inc.
Typically, VCs hire patent attorneys to perform expensive legal due diligence, and that type of patent analysis determines nothing about industry relevant IP strategy that protects a market position – just doesn't.
In contrast to traditional due diligence (having the interns crank the business plan through a standardized vetting process), IP-focused due diligence requires an interpretation of explicit and implicit information extracted from patent and related data.
In other words, one needs to CREATE information from IP data that doesn't inherently exist – patent landscape analysis that's reshaped with every newly granted patent.
Researching the patent landscape will identify competitors already entrenched in the technology sector, and whether or not the major patent holders are currently applying that technology to products in the startup's targeted marketplace. When the emerging market starts throwing off enough revenue, the potential acquiring companies will begin evaluating the startup's patent position.
PATENT INTELLIGENCE DRIVEN STARTUPS:
With patent-extracted information, startup founders can get ahead of their industry to:
1.Project possible competitive responses to the company's products: A competent technologist can correlate those patent holdings to the start up's planned products, and opine on whether those patent holdings pose a significant threat. This is not a legal due diligence, but rather a broad view of how "patent-dense" a targeted market is, and what companies dominate that technology domain.
2.Strategically establish a future market position within the technology domain. Patent strategists can direct the early stage company (and investors) on where there are "holes" in the patent space available to capture and patent. These holes may NOT be absolutely aligned to support your company's planned products, but we're talking about capturing "IP Market Share" – bargaining chips that are so closely aligned with the Biggies' products that you've successfully set up:
A defense to infringement challenges when big corporations want more than a simple corner of your sandbox,
An Exit Strategy. Patent based due diligence identifies the obscure and non-obvious big corporations that would find your company's patent assets a logical compliment in an acquisition. Further analysis of the patent holdings for each of them individually, such as filing dates and trends, patent volume, paints a picture of their product/market strategy. Patents are a reliable proxy to estimate their internal R&D budget to address your start up's targeted domain. Creating an IP strategy to saturate the available IP "white space", and not overlap "Biggie's" technologies sets up a future high value acquisition.
On the other hand, start ups with no IP, or thin and casually threatening IP disadvantages the startup. It works against exit strategy of delivering a value premium back to the startup's stakeholders.
With effective IP due diligence, investors can find truly disruptive start ups.
And early stage patent due diligence helps the startup founder clarify the most sustainable product-market position and path to exit. I know. I'm doing it now … again.